MeBe Culture
Empowering other families starts with first taking care of our own. Simply put, we hire the most passionate, talented team members and treat them the way they deserve. Our clinical team includes energetic and enthusiastic ABA Behavior Technicians, BCBA Clinical Supervisors, Speech Language Pathologists, and Occupational Therapists. Our administrative team includes compassionate and knowledgeable client coordinators, scheduling managers, and authorizations experts.
Together, we work to support families and collaborate across disciplines and departments to create the best possible outcomes for our clients.
It's all there in our company Mission: "To foster an engaging environment where employees are motivated, recognized for excellence, and encouraged to cheer each other on."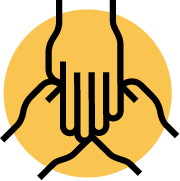 MeBe Diversity & Inclusion
MeBe is committed to fostering, cultivating, and preserving a culture of diversity, equity, and inclusion. We consider our team members to be our most valuable asset; the collective sum of our team's individual differences, life experiences, knowledge, inventiveness, self-expression, unique capabilities, and talents represents a significant part of not only our culture, but the company's reputation and achievements.
Everyone is welcome—as an inclusive workplace, our employees are comfortable bringing their authentic whole selves to work. MeBe is about "being me" and we truly value each person's individuality and unique qualities.
Click here to read more about our Mission, Vision, and Values.